Every year, we invest a lot of time to enhance and fine tune our production process. Here is in a few lines, the differents technologies used to create the SELECT foil.
Exclusive technology: Part manufacturing in high pressure full carbon prepreg.
All masts / front wings / stabilizers profiles of our windfoils are made of carbon.
For our fuselages, we offer 2 different technologies: full prepreg carbon or Aluminum Aero: alloy specific to aeronautics, this material is solid, lightweight and ultra-rigid.
This technological development allows us to maintain the level of performance of our foils whilst reducing production costs to offer more attractive retail prices.
Our Alu Aero fuselages are machined directly in our workshop in France.
Whatever the technology used, they are built by SELECT / SM COMPOSITE.
The advantages of the SELECT technologies :
The moulding and machining ensure a high precision manufacturing and a constant production.
Thanks to the use of pre-preg, we can put reinforcements in differents directions to get the twist and flex values we are looking for.
We master of production process end to end : our hybrid carbon / aluminium foils benefit from the same hard work and dedication as the SELECT fins…no compromise on quality !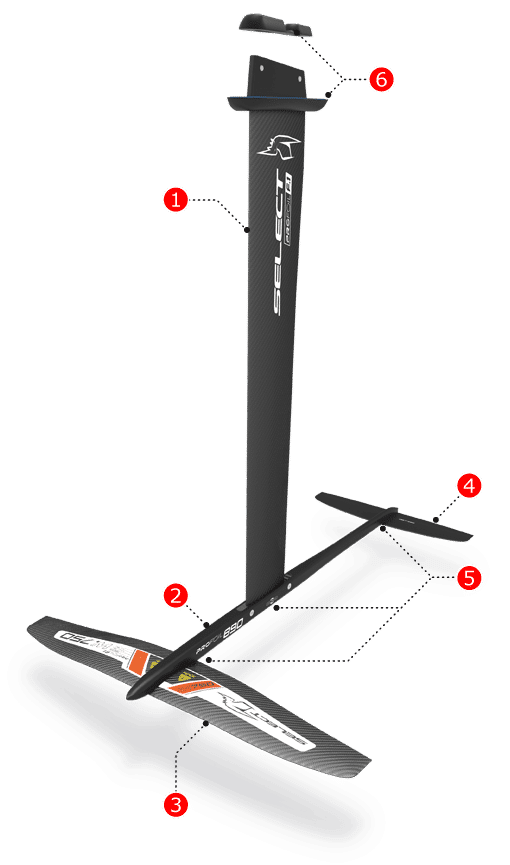 CONSTRUCTION DETAILS OF THE ProFOIL.F1
1 – MAST
Construction : monolithic full carbon prepreg
– UD carbon fiber hi-modulus 390 GPA HM
– Biaxial carbon 430 GPA HM
Length : 90 cm
Fuselage fixture : stainless steel screws and bolts / Additional security lateral fixture
Finishing : Sanding 1200 grit
2 – FUSELAGE
: 2 fuselages available
– Alu.Aéro 890mm
– Alu.Aéro 1060mm
3 – FRONT WING
 : 2 sizes available : W850 ou W750
Construction : full carbon prepreg.
Powerful profile with strong acceleration reserve
Finishing : sanding / grain 1200 > water on water contact
Fixing : 3 stainless steel screws / Diameter 6 mm
4 – STABILIZER
 :
Construction : Carbon fr4 > High precision machining
Stabilizer built into the fuselage : very low drag
Finishing : sanding / grain 1200
Fixing : 2 stainless steel screws / Diameter 6 mm.
5 – FIXATIONS Mast / Fuselage / Wings / Stabilizers
High quality Stainless steel screws / M6
6 – FIXATION Board / Foil
: 2 connection plates + stainless steel bolts and barrel nuts.
CP TOP to distribute the clamping forces on the deck.
CP BOTTOM to lock and secure the forces on the hull