Every year, we invest many time to improve our production technologies.
Here a short presentation of technologies implemented to manufacture the SELECT fins.
The specificity of SELECT Hydrofoils is that all the fins are molded inside metal molds with pre-preg material from the aviation industry. This requires costly equipment ! SELECT is the only manufacturer mastering this production technique.
Since 2013, we've been making full CNC machined products directly from prepreg plates. Our new CAD / CAM software associated with out new large-framed high speed machining center enable us to make new fins with a superior precision.
The other fins of the market are made in epoxy or in polyester, hand-machined in gross material plates of 10 to 12 mm. The finishing is always done by hand, with its own share of uncertainty. There are no identical fins manufactured with these techniques !
The advantages of the SELECT technologies :
The moulding and machining ensure a high precision manufacturing and a constant production.
Thanks to the use of pre-preg, we can put reinforcements in differents directions to get the twist and flex values we are looking for.
Thanks to the molding and machining, the rigidity is controlled whatever the length of the fin.
PREPREG / MOULDING PROCESS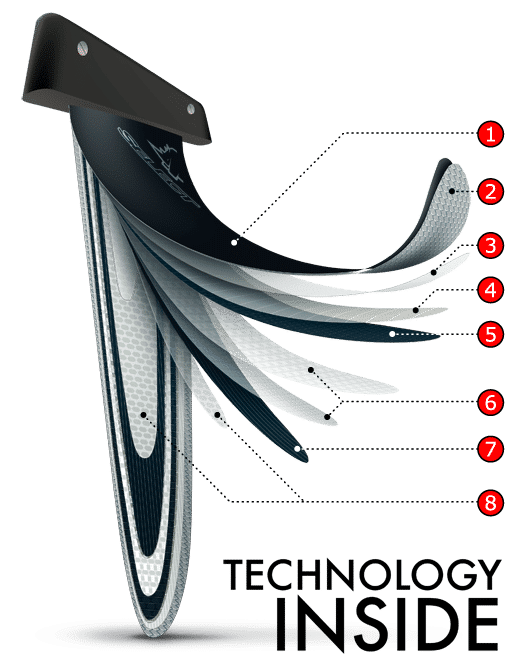 1 – Black finishing : non woven carbon mat
2 – 330 gr/m² Twill Glass Prepreg
3 – 590 gr/m² UD Glass Prepreg @ 0°
4 – 590 gr/m² UD Glass Prepreg @ 90°
5 – 420 gr/m² UD Carbon Prepreg @ 90°
6 – 795 gr/m² Twill Glass Prepreg
7 – 420 gr/m² UD Carbon @ 0°
8 – 900 gr/m² UD Glass Prepreg @ 0°