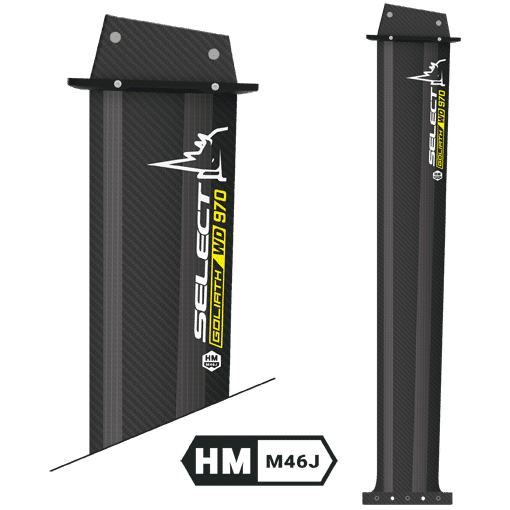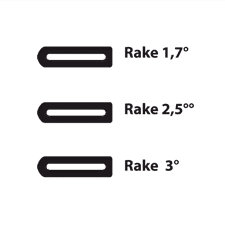 HIGH MODULUS CARBON MAST
THE ULTIMATE RIGIDITY
The Goliath mast is ultra-rigid.
Thanks to SELECT technology and the massive integration of M46J (high modulus carbon), bending (lateral distortion) and twisting (around the length of the mast) are totally blocked, providing the exceptional stiffness needed to maintain foil geometry in all conditions.
This rigidity is essential to exploit the full potential of our high-performance wings.
Direct and responsive, the Goliath mast transmits all the power and increases the level of performance (lightning acceleration/speed/ control/power and precision).
– SPECIFICATIONS
Height under hull : 96,5 cm
Board mount : Deep Tuttle full carbon + full carbon removable board.
The support plate provides precise wedging while supporting 35% of lateral forces (Limiting the breakage of board boxes). 
– RAKE :
Three available angles : 1.7° / 2.5° / or 3° (Plate-adjusted).
– Plate 1.7° (For 1st generation boards)
– Plate 2.5° or 3 (For post-2021 boards).
– HYDRODYNAMIC
Thin symmetrical profile/Identical to the best SELECT fins (low stall sensitivity).
The GOLIATH WD 970 mast is straighter than the PROfoil.F1.
The mast/fuselage angle is 90°, allowing the position of the mast on the fuselage to be set back.
The root of the front wing becomes further forward in relation to the mast.
This technical option generates greater power from the front wing and a more pronounced spin hold for greater control.
– TECHNOLOGY
Full carbon prepreg HM (high-modulus) + autoclave.
Reinforced high-modulus carbon structure (The ultimate in stiffness and strength).
Sandwich-free construction for maximum strength.
Finish : Hand-sanded surfaces (Gr.1200) for perfect glide. No varnish